In the Sudanese capital, civilians cower behind interior walls, fearing flying window glass and stray bullets. Commerce in Khartoum has ground to a halt. Water and electricity outages are widespread. Pitched battles have broken out near the airport and other parts of the city of 5 million, with fighter jets roaring overhead.
Two military factions — once political allies, now battlefield adversaries — are wrestling for control over the city and over the country's lucrative mineral resource exports, especially gold. Violence is erupting in other parts of the northeast African nation.
Four days after an initial spasm of violence, the Sudanese capital of Khartoum is slipping further toward outright civil war.
While the two battling factions are headed by rival Sudanese generals, there's another player that's been lurking around the shadows of Sudanese politics and commerce for years now, a foreign country that has long had its eye on securing a port on Sudan's Red Sea coast: Russia.
For the moment, there is no public evidence that Moscow is playing a role in the violence in Khartoum or elsewhere. That also goes for Wagner, the notorious Russian mercenary company whose owner has close ties to the Kremlin and the Russian Defense Ministry, and whose employees have been reportedly working at Sudanese gold mines.
But experts are closely watching for hints that Russia may have a hidden hand in the turmoil — or what it might do as the country sinks deeper into chaos.
Here's what you need to know about the roots of the violence and Russia's presence in the country.
Chaotic Backstory
Sudan was ruled for nearly three decades by the dictator Omar al-Bashir, who gained infamy for, among other things, orchestrating a campaign of rape, pillage, and mass killings in the western Darfur region. In 2009, he became the first sitting head of state to be indicted by the International Criminal Court in The Hague.
In 2019, mass protests seeking his ouster led to a military coup whose plotters kicked out Bashir that April and took control of the country before later giving way to a civilian-military transition council. Two years later, however, in October 2021, the military wrested control of the government in its entirety.
The two officers behind that seizure were General Abdel Fattah al-Burhan, chief of the Sudanese Army, and his deputy, General Mohamed Hamdan Dagalo, who heads a powerful paramilitary group known as the Rapid Support Forces, or RSF. Dagalo is commonly known by a nickname: Hemedti.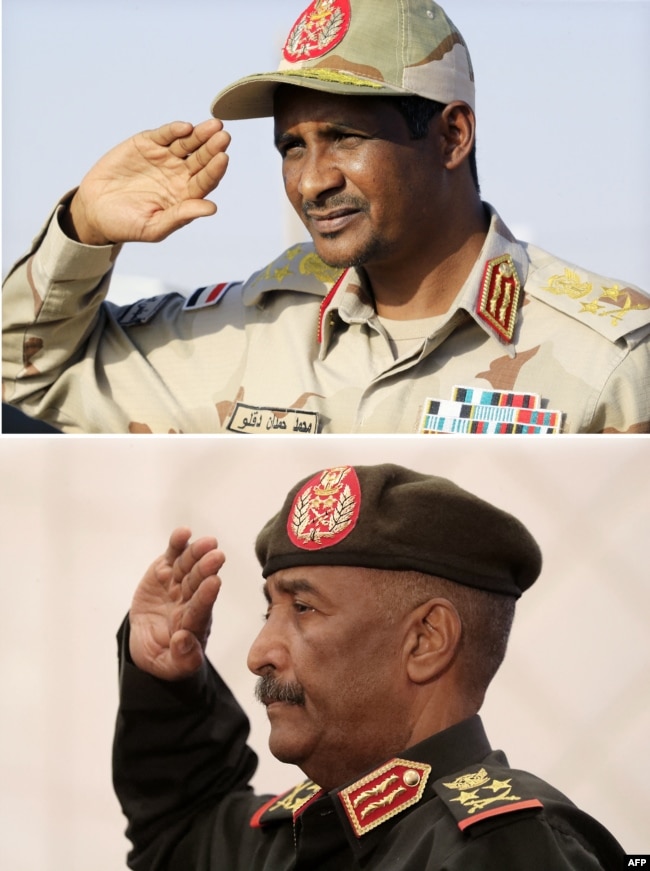 Hemedti's forces were instrumental in the Darfur atrocities that resulted in Bashir's indictment, according to Alex de Waal, a longtime scholar of Sudan who is now executive director of the World Peace Foundation at The Fletcher School at Tufts University in the United States.
"They have – in a mere decade – become the dominant power in Khartoum," de Waal wrote in an analysis. "And Hemedti has become the face of Sudan's violent, political marketplace."
Last December, under pressure from Western nations and other African countries, the two agreed to a framework deal that would eventually transition the government back to civilian control.
That led to uncertainty among Sudan's powerbrokers and civilian leaders, and rising tensions between military factions until on the morning of April 15, fighting broke out between units loyal to Burhan and Hemedti's RSF.
So, What About Wagner?
In November 2017, Hemedti's forces took control of gold mines located in the Jebel Amer district in Darfur. The mines are Sudan's single largest source of export revenues, according to the World Peace Foundation.
About five months later, on April 24, 2018, the founder and owner of Wagner, Yevgeny Prigozhin, flew from Moscow to Khartoum, accompanied by two Wagner security guards.
The flight, first documented by Novaya Gazeta, was one of many that Prigozhin took over the years to a range of African countries where Wagner soldiers, and other Prigozhin-linked companies, have appeared: the Central African Republic, Mozambique, Libya, and others.
In August 2018, according to the French newspaper Le Monde, Prigozhin again flew to Khartoum, this time to meet with the leaders of several Central African Republic armed groups. On August 31, the Russian Foreign Ministry announced the "Khartoum Declaration" and "the creation of a Central African opposition association in order to achieve long-term and sustainable peace in the Central African Republic."
Since then, Prigozhin's Wagner soldiers have steadily increased their visibility, and impunity, according to the United Nations, in the Central African Republic, offering security to the impoverished country's leadership in exchange for access to its vast mineral resources.
In Sudan, Wagner's presence has been less visible, but of growing concern to Western countries.
Prigozhin's companies likely won access to Sudan's most lucrative gold mines around the time Bashir met with Russian President Vladimir Putin in late 2017, according to C4ADS, a Washington-based research organization. Mikhail Potepkin, a man who was employed by Prigozhin's Internet Research Agency – the organization commonly known as Russia's troll factory – was named head of Prigozhin's operations in Sudan.
The Russian open-source research group CIT, meanwhile, documented evidence of Wagner security guards helping to suppress public protests in Khartoum in late 2018 – protests that eventually led to Bashir's ouster a few months later.
According to documents obtained by The New York Times from the Dossier Center, a London-based opposition research organization funded by exiled Russian oil tycoon Mikhail Khodorkovsky, Wagner advisers advised Bashir to launch a social media campaign to undermine the anti-government protesters.
A former top-ranking Wagner commander named Aleksandr Kuznetsov, meanwhile, has been identified by CNN as being a key leader of Prigozhin's gold-mining operations in Sudan. Kuznetsov has been sanctioned by the European Union and Britain for his alleged ties to Prigozhin.
About a week after Bashir was ousted, a group of high-ranking Russian military officials flew to Khartoum on a corporate jet registered to a Prigozhin-affiliated company, according to Novaya Gazeta. It wasn't clear if Prigozhin was on that flight. The same jet was used to fly several top Sudanese officials to Moscow not long after that, including a brother of Hemedti.
In June 2019, Sudanese security forces, including members of Hemedti's RSF, used heavy gunfire and tear gas to disperse a demonstration in Khartoum. More than 100 people were believed to have been killed.
Prigozhin's Sudan company, Meroe Gold, also imported 13 tons of riot shields, as well as riot police helmets and batons for a company controlled by Hemedti's family, the Times reported.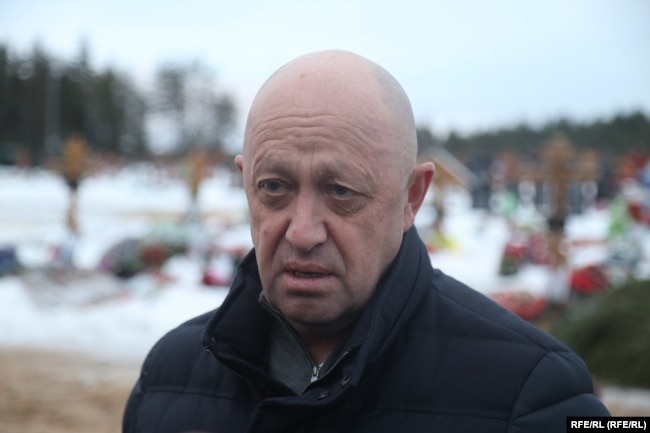 In 2020, the U.S. Treasury Department sanctioned several Prigozhin companies and employees for their work in Sudan, and other countries, including Meroe Gold and Mikhail Potepkin.
"Prigozhin's role in Sudan highlights the interplay between Russia's paramilitary operations, support for preserving authoritarian regimes, and exploitation of natural resources," the department said in a statement. The companies targeted "have directly facilitated Prigozhin's global operations and attempted to suppress and discredit protestors seeking democratic reforms in Sudan."
Responding to a reporter's query about Wagner's presence in Sudan, Prigozhin said in a statement published on his Telegram channel on April 18: "I can tell you with absolute certainty, absolutely exactly, and you can enter my words into any record…. Today not a single Wagner fighter, I emphasize not a single one, is in Sudan. And it's been that way for over two years," he said.
What About That Naval Port?
Sudan's 850-kilometer (530-mile) Red Sea coastline is largely undeveloped, except for Port Sudan, which is the country's most important gateway for international trade. Around 90 percent of the country's exports and imports go through the port.
In November 2020, Putin announced that Russia would build a facility for naval ships at Port Sudan, under a 25-year lease deal. The agreement, which would give Moscow a second port outside Russia, irked the United States and other Western nations. Russia's other foreign port is located in Tartus, Syria.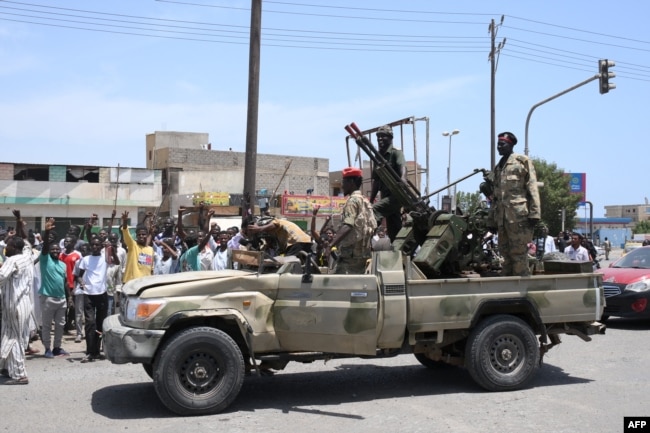 A separate announcement stipulated that the facility would have workspace for up to 300 personnel and docks for as many four warships, including nuclear-powered vessels. The deal also stipulated that Russia would supply weapons to Sudan to help defend the facility.
Sudan's political turmoil put the deal on hold until 2022. One day before Russia launched its full-scale invasion of Ukraine on February 24, 2022, Hemedti traveled to Moscow for undisclosed talks, accompanied by a group of Sudanese government ministers. Returning to Khartoum about a week later, he told reporters that he supported moving forward with the deal.
"If any country wants to open a base and it is in our interests and doesn't threaten our national security we have no problem in dealing with anyone, Russian or otherwise," he was quoted as saying.
This past February, meanwhile, Russian Foreign Minister Sergei Lavrov traveled to Khartoum, as part of a multileg journey to several African nations. Shortly afterward, two Sudanese ministers signaled the naval base deal was nearing completion.
With reporting by RFE/RL Russian Service correspondent Aleksandr Gostev.