New developments:
Sweden summons Russian ambassador after he said Sweden and Finland would become "legitimate targets" by joining NATO.
U.N. nuclear watchdog chief Rafael Grossi visited the Russia-held Zaporizhzhia nuclear power plant in Ukraine Wednesday. Grossi has expressed alarm about the potential for a nuclear disaster amid fighting in the area.
Russia begins exercises with its Yars intercontinental ballistic missile system with 3,000 personnel and 300 pieces of equipment, the country's defense ministry said.
IOC backs return of Russian and Belarusian athletes to competition as individuals but offers no timeline for Paris Olympics.
Ukrainian President Volodymyr Zelenskyy stressed the importance of the fight for the eastern city of Bakhmut, telling the Associated Press Tuesday a Ukrainian defeat there would bring pressure from the international community and some in Ukraine to make compromises with Russia.
Zelenskyy has said Ukraine will not engage in peace talks with Russia until Russian forces have withdrawn from all of Ukraine's territory. Since launching its full-scale invasion last year, Russia has claimed to annex four areas in Ukraine in a move overwhelmingly condemned as illegal by the U.N. General Assembly.
Western allies have downplayed the significance of Bakhmut, saying a Ukrainian loss there would not have large implications on the overall conflict.
But Zelenskyy told the Associated Press that every piece of the fight is important.
"We can't lose the steps because the war is a pie — pieces of victories. Small victories, small steps," he said.
Zelenskyy spoke to the Associated Press as he traveled on a train to several parts along the frontline, including the Sumy region in the northeast of Ukraine.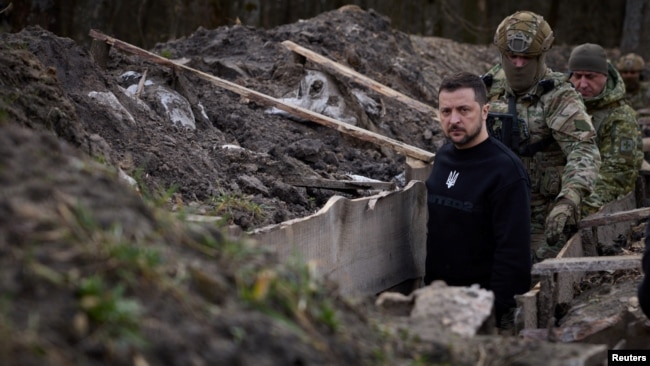 "The region is next to the enemy. The threat is constant. The shelling of our border is constant. But life, our people are obviously stronger than any fears," Zelenskyy said in his regular nightly video address.
Zelenskyy spoke with city officials and residents in Okhtyrka and Trostyanets, towns that have seen fierce fighting. Trostyanets was under Russian control shortly after the invasion but freed by Ukrainian troops on March 26, 2022, The Associated Press reported.
He also traveled to an undisclosed location near the Russian border and spoke with border guards.
"I also had a special conversation with the Head of the Border Guard Service. We talked about the defense of Sumy and our other regions, about strengthening the border guards who, together with all the defense forces, are fighting on the frontline," Zelenskyy said.
A deal to secure the safety of Europe's largest nuclear power plant in Ukraine could be "close," although final details have yet to be agreed upon by Russian and Ukrainian officials, Rafael Mariano Grossi, chief of the International Atomic Energy Agency, said Tuesday.
Grossi told reporters he would "most probably" head to Russia in the coming days to try to finalize an agreement to protect the nuclear plant at Zaporizhzhia. Fierce fighting for months near the facility has worried international officials about a nuclear disaster, with the potential for radiation spreading far beyond the immediate war zone.
"There is an increased level of combat, active combat" near the power plant, Grossi said. "My teams there report daily about the attacks, the sound of heavy weaponry. This is practically constant."
Grossi has long called for a protection zone to be created around the plant, which is very near the front line of the war. But no agreement has been reached.
"It is a zone of extreme volatility. So, the negotiations are, of course, affected by the ongoing military operations," Grossi said. "I would not characterize the process for the last few months as one that has not led to any progress."
Grossi said he has maintained a professional dialogue with both Russian and Ukrainian officials as he seeks a deal "to ensure … that there is no radiological accident, major catastrophic accident, in Europe."
"I think it's close," he said of the possibility of a deal. "Obviously, obviously, I need a political commitment, political decision. And in this case, what I want to stress is that what they would be agreeing is on the protection of the plant. They are not agreeing with each other. They are agreeing with the IAEA. They are agreeing with nuclear safety and security. This is a very important element which I believe should be taken into consideration."
He said any such agreement would be limited to protection of the nuclear plant, not aimed at securing a broader cease-fire.
"What we are doing, the way we are presenting things is as a series of principles or commitments that the IAEA presents and everybody would be able to support," he said. "So, in my opinion this should make an agreement possible, not impossible, not utopian, not something for which we should be waiting for months and months on end."
Because of the fighting, he said, "I think the principle here is to avoid an accident, and the possibility of having it is increasing. This is a matter of fact."