SEVASTOPOL, Ukraine — Following Moscow's illegal annexation of Crimea in 2014, the Ukrainian peninsula experienced a real estate boom, as many Russians rushed to buy beachside properties.
With as many as 800,000 Russians moving to Crimea permanently since the occupation and others snapping up holiday homes or buying apartments and houses to let, it's not surprising that the local property market had been surging.
By the start of 2022, prices had been increasing by around 60 percent per year, according to some estimates.
A number of decisions by Russian-installed planning agencies also helped push prices up even further.
Last summer, for example, local authorities in Sevastopol suspended the issuance of building permits until a new city development plan was adopted. The market reacted immediately, with the average price per square meter in the city soaring from 85,000-95,000 rubles ($1,180-$1,320) in April 2021 to 120,000 ($1,670) rubles just two months later.
The property gravy train came off the rails, however, once Moscow launched its unprovoked invasion of Ukraine in February.
According to the Idem consulting company, sales of residential real estate in Crimea had fallen by 72 percent in June 2022 compared to the year before.
Although there was some inertial increase in 2022 in the sale of apartments in new buildings, a growth rate of just over 5.1 percent in June was minimal when set against the double-digit surges of previous years.
Statistics from the Restate digital platform show that the average price for new builds in Sevastopol tanked from 207,300 rubles ($2,885) per square meter in May to 147,500 rubles ($2,055) in December, a decline of 29 percent in just six months. House prices in Crimea are estimated to have declined by almost 10 percent on average in 2022, and the course of the war in Ukraine looks set to exacerbate the situation even further.
Following the destruction of part of the Crimean Bridge in October and the liberation of Ukraine's port city of Kherson a month later, property sales on the peninsula have now ground to a virtual halt.
"External demand is gone, and for the most part it dictated both pricing and sales volumes," said Ilya Pichuyev, a managing partner of the Analytical Corporate Group, which conducts real-estate marketing research.
Mass Exodus
In Pichuyev's opinion, Ukrainian drone attacks, sabotage, and air-defense activities in Crimea have now fueled an exodus from the Crimean property market, with many reluctant to invest in an area so close to a war zone.
Moreover, there are also signs that, as the situation in Crimea becomes increasingly fraught and uncertain, many Russians are seeking to exit the local real-estate market at all costs.
Although officially a lot of real estate is being offered at prices that have been reduced by up to 2 percent, many owners are happy to knock off up to 20 percent of a property's declared value in order to get it off their hands as quickly as possible, according to Natalia Massalskaya from Multidom, a Sevastopol realtor.
Dmitry Zhidelev, the chairman of the Crimean Guild of Realtors, says that that the peninsula's real estate has become such a buyer's market that advertised property prices are being slashed by as much as 50 percent by the time a purchase is agreed.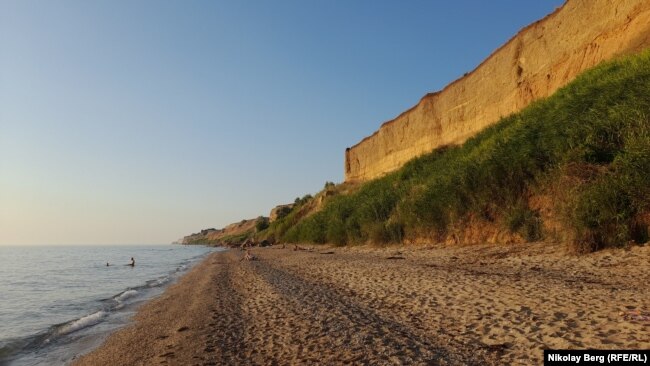 The slowdown also appears to have affected all segments of the market, from luxury real estate to cheaper properties.
"Sales of apartments in our complex were quite active throughout this year, until autumn…but since October demand has practically stopped," said Irina Romanova, who is the marketing director for a resort facility near Yalta. "Many customers who were going to make a purchase before the end of this year decided to wait and postponed their plans till 'after New Year's' or even till the spring."
"The reason for this is the political environment and the uncertainty associated with it, as well as the lack of convenient logistics to the peninsula," she added, pointing out that the situation has been exacerbated by the fact that Moscow closed the airport in the Crimean capital, Simferopol, for security reasons after the invasion of Ukraine began on February 24. "Not everyone is ready to purchase real estate remotely, and to come and view properties has become a problem for many now that planes are not flying," she said.
Another reason why many Russian investors have become jittery about Crimean properties is the fact that their ownership status might be jeopardized should Ukraine retake the peninsula, a notion that seems less far-fetched than it did a year ago given Kyiv's recent battlefield successes.
If it happens, Ukrainian authorities have already made it clear that most Russians who have bought property in Crimea will simply lose their apartments. "The population that arrived illegally on the territory of the peninsula must leave…by voluntary departure or forced expulsion," said Tamila Tasheva, the permanent representative of the president of Ukraine in Crimea.
If Crimea were to be returned to Ukraine, it could also seriously complicate matters for locals who remained there following Russia's occupation of the region.
Native Crimeans who lived on the peninsula until 2014 and took Russian citizenship after the occupation will not be at risk of being prosecuted for collaboration, according to Ihor Ponochevniy, the head of the Ukrainian prosecutor's office for Crimea.
However, contracts for the sale of real estate, which the Crimeans entered into under Russian law, can be cancelled, say Ukrainian commentators Mykola Volkivskiy, the president of the First International Ukrainian Foundation of Development, and Artem Oliinyk, who heads the Ukrainian branch of the International Association for Political Science Students.
Should the peninsula be liberated, experts predict that local courts might also have to resolve thousands of cases dealing with the thorny issue of Ukrainians who re-registered property in Crimea or sold real estate to Russians in accordance with legislation that applied under Moscow's occupation.
"Decisions will be made by local judges, who will consider each case separately in detail, but general recommendations can be made," Volkovskiy and Oliinyk said.
In their view, "all property of Ukrainian citizens must be returned to the hands of their rightful owners, and losses must be compensated." They also advocate ensuring that "the Russian military and collaborators should be deprived of property" and that such people should not be allowed to transfer ownership of this real estate to their families and friends.
Written by Coilin O'Connor