Melissa Walls, co-director of the Center for Indigenous Health at Johns Hopkins University, has dedicated her career to working with American Indian and First Nations communities to promote health equity.
Walls, a member of the Bois Forte and Couchiching First Nation bands, says she views native peoples as family, not just as subjects for urgent public health research and interventions. She also notes that Indigenous peoples are disproportionally affected by poor health, with their communities experiencing high rates of diabetes, obesity, substance abuse, and suicide.
On Monday, Walls received a significant boost for her work in the form of the 2023 President's Frontier Award, which recognizes exceptional scholars who are on the cusp of transforming their respective fields. The award, presented during a surprise announcement at the Bloomberg School of Public Health, is accompanied by a $250,000 grant.
"[Melissa's] work has shown the profound effects of colonization, racism, and various forms of discrimination on the health and welfare of Indigenous communities," said Johns Hopkins University President Ron Daniels during the award announcement. "And when you look at the data she has assembled, you see a clear nexus between the kinds of trauma that these communities have been exposed to and higher levels of mental health issues and a host of different diseases, including diabetes."
Walls, a Bloomberg Associate Professor of American Health in the Department of International Health at the Bloomberg School, has directed the center's Great Lakes Hub in Duluth, Minnesota, since 2019. There she serves the public health needs of 11 Ojibwe Bands across the Upper Midwest.
One of its longest-running initiatives, the Healing Pathways Project is a community-based and multigenerational research study involving more than 700 individuals across eight reservation and reserve communities. This ongoing project provides a new understanding of cultural and familial roles in adolescent development and valuable insight into substance abuse and mental health trajectories while also highlighting sources of community strength and resilience that have a far-reaching impact on intervention strategies. Walls, who previously spent 12 years serving these communities while at the University of Minnesota, has successfully fostered wide-ranging community buy-in for such efforts.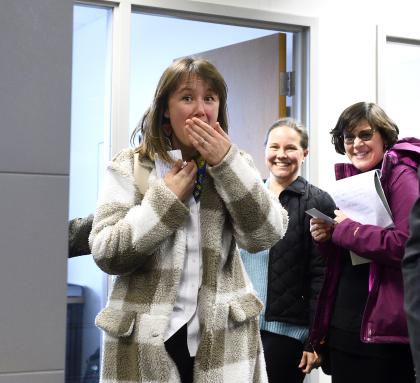 Allison Barlow, executive director of the Center for Indigenous Health (formerly the Center for Native American Health), used the words "amazing" and "extraordinary" to describe Walls. "Her scientific genius is fostering authentic community engagement," she said. "Engaging the voices and insights of communities to guide and drive every stage of the research process is really allowing her to accelerate health equity."
Walls, who was in Baltimore for meetings on Monday, was surprised to the point of tears after walking out of a meeting to find Daniels and dozens of colleagues and friends—even a beloved auntie from Minnesota—gathered to celebrate her. The surprise was followed by research associate Andrea Medley singing a Haida Nation honor song with hand drum accompaniment.
"We're really proud and privileged to have you here as a colleague," Daniels said. "We are so excited about the work that you are going to do, the dreams that you will dream and the way in which you will take your work, your impact to an entirely different level. We know it's going to be great."
Added Ellen MacKenzie, dean of Bloomberg School: "Melissa has played a very important role in growing the center and changing its name and its mission to look at Indigenous health, not just here in North America but around the world. This award celebrates past achievements but also gives her an opportunity to chart the future."
Walls is the second recipient of the award from the Bloomberg School. She said she is looking forward to investing some of the funds in expanding Indigenous faculty and staff as well as new scholarships for Indigenous students.
"Another thing I will be looking at is creative pilot projects," she added. "Some projects around traditional healing and traditional knowledge are tougher to get funded through regular public health avenues because we just don't have a Western evidence base for them yet. This gives us the space to build that up."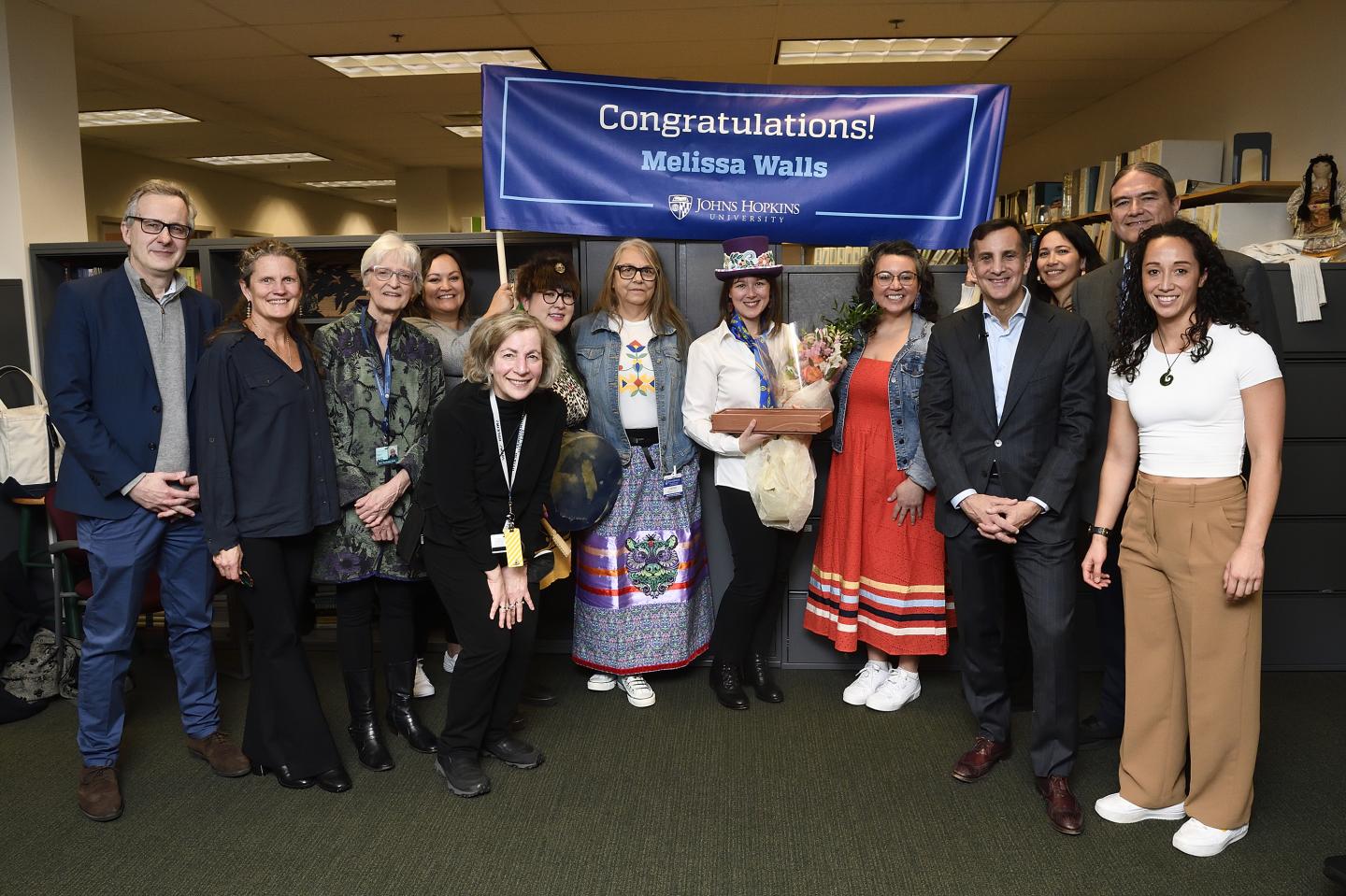 IMAGE CREDIT: WILL KIRK / JOHNS HOPKINS UNIVERSITY
The President's Frontier Award, originally a five-year program, was extended to 10 years in 2019 and is supported by a donation from the chair of the board of trustees, Louis J. Forster, A&S '82, SAIS '83, and now partnered with an additional gift from David Smilow, A&S '84.
Nominations for the award, created to acknowledge and nurture individuals at Hopkins doing groundbreaking work in their fields, are submitted from across the university. An awards committee led by Denis Wirtz, vice provost for research, selects the finalists to submit to the president and provost.
Additionally, three Frontier Award finalists will each receive $80,000 honorariums:
Laura Ensign, an associate professor of ophthalmology at the School of Medicine, was cited for her illuminating research in nanomedicine and her lab's focus on designing more effective formulations for prophylactic and therapeutic drug delivery.
Shigeki Watanabe, an associate professor of cell biology at the School of Medicine, has pioneered new approaches to electron microscopy that have transformed our understanding of synaptic transmission and neuronal communication.
Nadia Zakamska, a professor of physics and astronomy at the Krieger School of Arts and Sciences, was honored for her groundbreaking studies in galactic astrophysics and extragalactic astrophysics, including her lab's discovery of the existence of the quasar winds of supermassive black holes.