For migratory birds that spend days flying across continents and oceans, a wrong turn can be fatal — but an unexpected turn has earned one young bird a place in history.
The five-month-old bar-tailed godwit smashed the record for long-distance migration following a non-stop, 11-day flight from Alaska to Tasmania.
The 13,560-kilometre journey beat the previous record — also held by a godwit — by around 500 kilometres and was documented by researchers across the world.
Birdlife Tasmania convenor Eric Woehler said the bird probably lost "half or more of its body weight" during "continuous day and night flight".
"Short-tailed shearwaters and mutton birds can land on the water and feed," he said.
"If a godwit lands on water, it's dead. It doesn't have the webbing in its feet, it has no way of getting off the water."
"So if it falls into the water from exhaustion, if bad weather forces it onto the ocean surface, that's it."
How the epic journey unfolded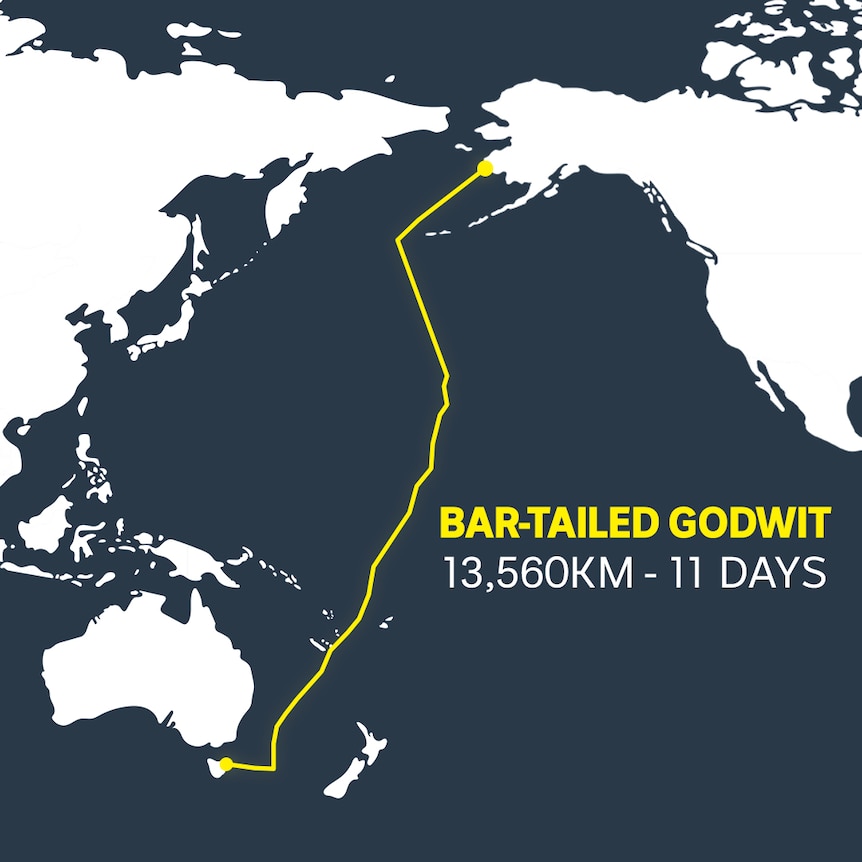 The bird began its epic journey on October 13 from the sprawling wetlands of the Yukon Kuskokwim Delta in Alaska.
It then flew south-west to the Aleutian Islands, across the Pacific Ocean west of Hawaii, down to New Caledonia and through the Tasman Sea.
Dr Woehler said godwits typically travel to New Zealand, but this one took a 90-degree turn and landed on the idyllic shores of Ansons Bay in eastern Tasmania.
He said this "wrong turn" increased the assumed "flight capacity" of the species.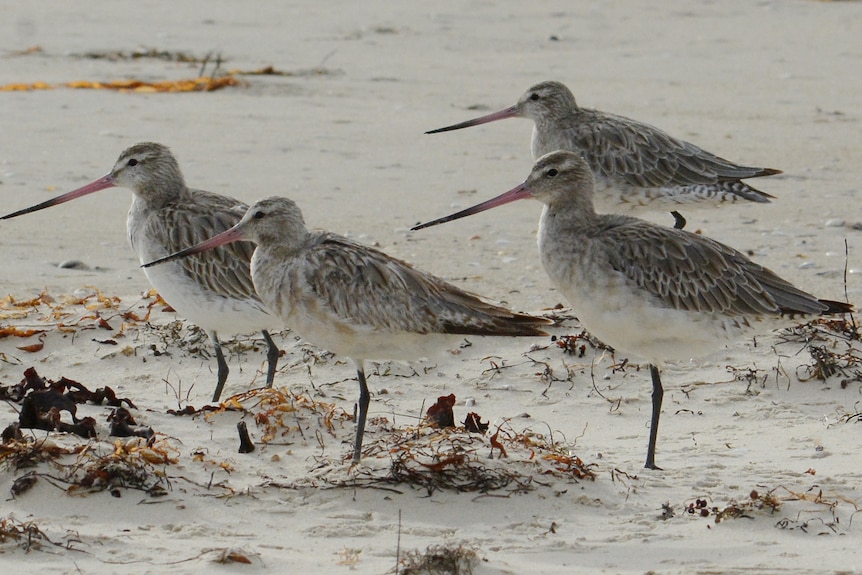 While those living on the east coast are more accustomed to flocks of tourists than birds, local mayor Mick Tucker said the godwit was certainly welcome.
"As long as they've got a couple of dollars in their pocket, we'll take anything," he said.
"But I hope he went through customs and got clearance."
Smaller tech allows tracking of bird
Tasmania is no stranger to migratory birds.
The short-tailed shearwater — otherwise known as a mutton bird — travels between Tasmania, Antarctica and North Pacific while the red-necked stint — which weighs just 25 grams — flies from breeding sites in Siberia.
The journey of the record-breaking godwit was documented as part of a tracking study involving organisations including the Max Planck Institute, Massey University in New Zealand, China's Fudan University and the Global Flyway Network.
A satellite tag weighing just 5 grams was attached to the bird in Alaska prior to its migration.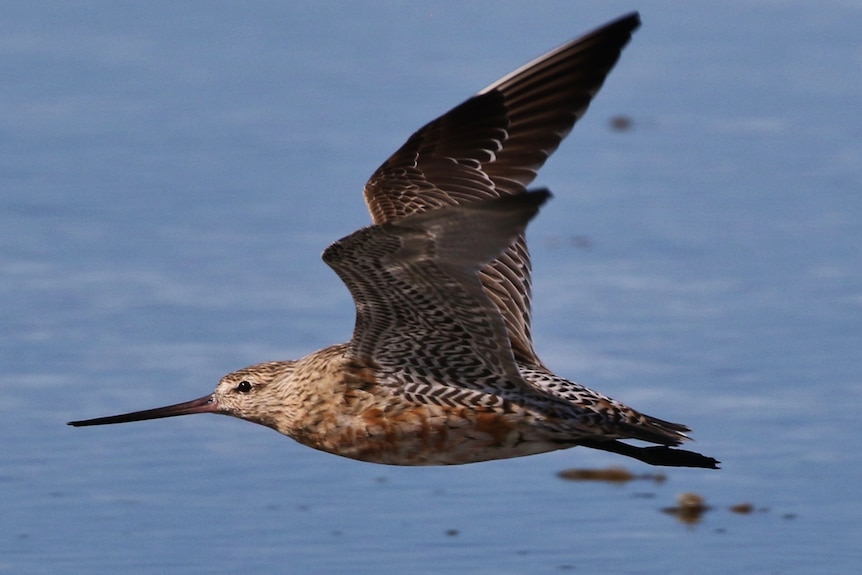 Dr Woehler said smaller and cheaper technology was making it easier to research smaller birdlife.
"It's one thing to put a satellite tag on an albatross that weights five or more kilos but it's a completely different story in terms of technology and ethics to put a tracker on a bird that weighs only 300 or 400 grams," he said.
"The package has to be so small given this bird travels 12,000 kilometres. It can't have any impact on the migration or welfare of the birds."
Dire warning about the fate of migratory birds
The godwit's journey has been celebrated by bird enthusiasts across the globe; the Pukorokoro Miranda Shorebird Centre in New Zealand is even considering producing a celebratory tea towel to commemorate "long-haul champion" birds.
Dr Woehler welcomed the "good news story" but said it should not overshadow the fact that vital habitat for migratory birds needed protection.
"There was a report from Birdlife International a month ago that said half the world's bird species are decreasing," he said.
"Our birds are giving us a very strong signal about the state of the planet. So we need to understand how they feed, how they move and what their life cycles are in order to protect them."
"If birds are unable to build the energy reserve for their return flights to the northern hemisphere, they won't survive."