SOFIA — On March 9, Kristina Blagoeva, a 32-year-old woman from Bulgaria's capital, contacted the Animus Association, an NGO that offers counseling and support to victims of domestic violence. She told the organization that the previous day the man she was having a relationship with had threatened to kill her.
Less than a month later, her body was found in the trunk of a car, with two bullets in her chest. On April 7, her partner, Kaloyan Kaymakchiyski, was charged with her murder. The prosecutor's office said the most likely motive was that Blagoeva had ended the relationship.

The case has reignited a debate in Bulgaria about the country's domestic violence law, which rights activists and legal experts say needs modernizing to better protect women and has resulted in the deaths of dozens of women. But despite efforts to change the law, conservative factions in parliament have blocked any changes that would bring EU member Bulgaria in line with European norms, citing "gender ideology" and "traditional Christian values."

The major flaw in Bulgaria's legislation, activists say, is that while restraining orders can protect women from being stalked or abused, they can't be obtained by women like Blagoeva, who are neither married nor living with their partners.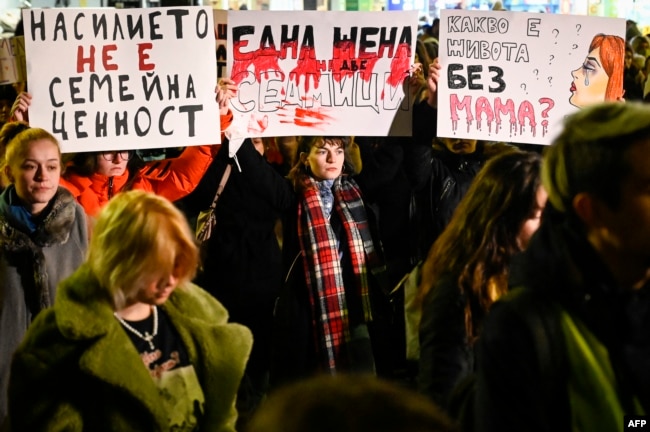 Yulia Andonova from Bulgaria's PULSE Foundation, which supports victims of domestic violence, says the current domestic violence law "isn't working" and is an "outdated" understanding of human relationships that does not correspond to current realities.

The existing law considers domestic violence to be "any act of physical, sexual, mental, emotional, or economic violence…committed against persons who are related, who are or have been in a family relationship or in a de facto marital partnership."

That definition is not expansive enough, say those calling on lawmakers to amend the law. "Think about how many people there are in such a situation. They have boyfriends but do not live together, whether because they are young and still live with their parents, or they are divorced and have children and an independent lifestyle, or they just live separately, work a lot, and spend only the weekend together," Andonova says.

While there are no official, agreed-upon statistics in Bulgaria on the number of domestic violence victims, Interior Minister Ivan Demerdzhiev said this month that cases were escalating. Throughout the coronavirus pandemic and the resulting lockdowns, there was an increase in the number of domestic violence incidents reported worldwide.
In a November 2022 survey by the National Statistics Institute, 20 percent of Bulgarian women between the ages of 18 and 74 said they had experienced sexual, physical, or psychological violence by their current or former partner. One third of women aged 18 to 29 said they had experienced violence from an intimate partner.
After Blagoeva's killing, questions were asked in public and in the media about why the Animus Association hadn't reported the case to the police. Both the Animus Association and the PULSE Foundation said that if they had flagged the case to the Interior Ministry, Blagoeva probably would not have received the protection she needed — and almost certainly not in time.
"If Kristina [Blagoeva] had filed such an application [for a restraining order], it is unlikely that any court would have allowed it to be considered at all," Katya Krastanova from the Animus Association told RFE/RL. Given that Blagoeva wasn't living with her partner, her case wouldn't be considered domestic violence under Bulgarian law.
Without being able to obtain a restraining order, the only other way for someone like Blagoeva to seek protection is to go to the police and report death threats and stalking. But both Krastanova and Andonova say that generally this is not effective. Unlike a restraining order in a domestic violence case, which is usually issued on the spot in Bulgaria, prosecutors would need to collect evidence to build a case before filing charges — and that process can typically take months, too long for those, like Blagoeva, who are in acute need.
"In [Blagoeva's] case, she was a victim of psychological harassment, surveillance, and stalking, and of indirect threats to her life. These facts are extremely difficult to prove, and it takes a long time for the police [to investigate]," Krastanova said.
Bulgaria's approach is at odds with the main document that regulates protection against domestic violence in Europe, the Council of Europe's Istanbul Convention. The convention, which Sofia has signed but not ratified due to cross-party concerns about recognizing a third gender and same-sex marriage, defines domestic violence as any act of violence "between former or current spouses or partners, regardless of whether the perpetrator lives or has lived together with the victim."
The 37 European countries that have signed and ratified the Istanbul Convention are required to implement a number of measures in order to prevent crimes, protect victims, and prosecute offenders.
Changes were proposed to Bulgaria's domestic violence law in 2022. Under the pro-Western government of Kiril Petkov, who served as prime minister from December 2021 to August 2022, the Justice Ministry launched a working group, including judges and NGO representatives. Among the proposed changes to the law was getting rid of the concept of "de facto marital cohabitation" and replacing it with an "intimate relationship," which would expand the scope of the law to include partners who did not live together.
The proposed change, however, was left out of the final version of the bill. The PULSE Foundation told RFE/RL's Bulgarian Service that the proposal had been rejected by the ruling coalition partners, the Bulgarian Socialist Party and the populist There Is Such A People party, because people in homosexual relationships would be included in the concept of "intimate relationships" and also given the right to protection.

RFE/RL's Bulgarian Service asked both the Bulgarian Socialist Party and There Is Such A People about their positions on the proposed amendments but did not receive a response.

Since 2020, Bulgaria has been governed mainly by caretaker governments and has seen five parliamentary elections in the past two years.

Former Justice Minister Nadezhda Yordanova from the Democratic Bulgaria electoral alliance, a member of Petkov's coalition government, was among the submitters of the bill in the parliament. She declined to comment to RFE/RL on which of the then coalition partners were opposed to the law being amended. She did confirm, however, that opponents of the proposal said the possible inclusion of same-sex couples in the legislation was an issue but not the only one.

"The main problem was how to divide the genuinely long-term relationships from those that are short-term, random, and do not involve a lasting commitment," Yordanova told RFE/RL's Bulgarian Service.

In the end, parliament never passed the bill. In January, invoking "traditional Christian values" and "gender ideology," lawmakers from the Bulgarian Socialist Party, the center-right GERB party, the nationalist Bulgarian Rise party, and the far-right Revival party rejected the planned changes to the legislation.

Yordanova told RFE/RL that Democratic Bulgaria will attempt again in the future to have the law amended in parliament, with a new approach being worked on to satisfy "conservative" factions of society.

For women like Blagoeva, though, it all comes too late.

"It's absolute nonsense," says the PULSE Foundation's Andonova to reject a bill aimed at helping women because of vague fears of gender ideology. "We don't have a working law. Obviously, there is no political will for people to live with dignity in this country," Andonova said. "That's the ugly truth."