These days we have more ways to stream movies and TV shows than ever — but as streaming services multiply, so do our monthly bills. Luckily, there's been an increase in the number of free TV options available, offering everything from local news and popular shows to hit movies. But with all the choices out there, it can be hard to know what's available and how to find it.
That's where Google TV comes in. Today, we're introducing a new live TV experience that lets you browse more than 800 free TV channels across multiple providers, organized in one easy-to-use guide right in the Live tab.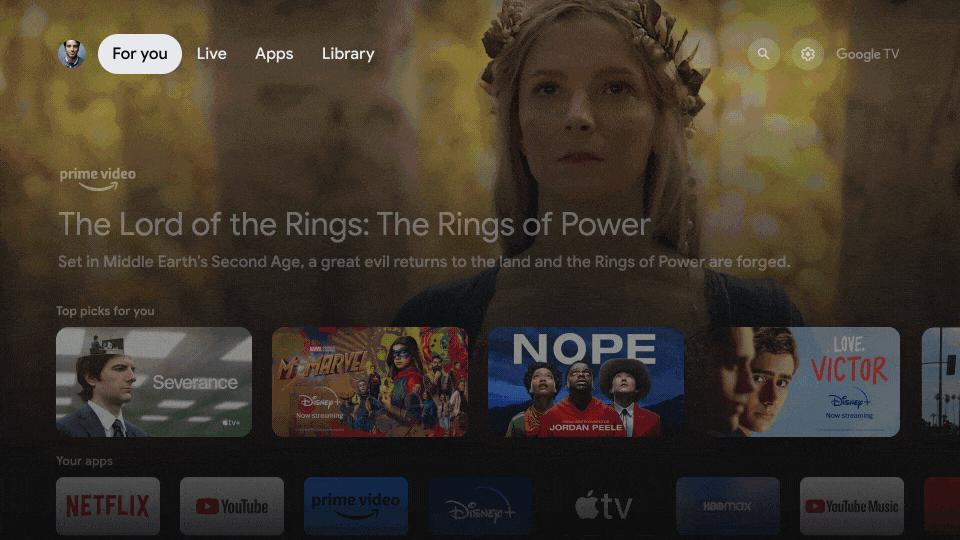 Google TV comes with over 800 free TV channels organized in one live TV guide
More free TV channels in one place than any other smart TV platform1
Starting today, we're integrating access to free channels from Tubi, Plex and Haystack News directly into the Live tab, alongside the existing lineup of channels from Pluto TV. We're also launching free built-in channels from Google TV that you can watch without even downloading or launching an app. In total, you can now browse over 800 channels and premium programming, including news channels from NBC, ABC, CBS and FOX. You can also tune in to channels from around the world, with programming in more than 10 languages including Spanish, Hindi and Japanese.
From breaking news to blockbuster movies and everything in between, there's something for everyone. And with no subscriptions or fees, it's never been easier to jump in and start watching.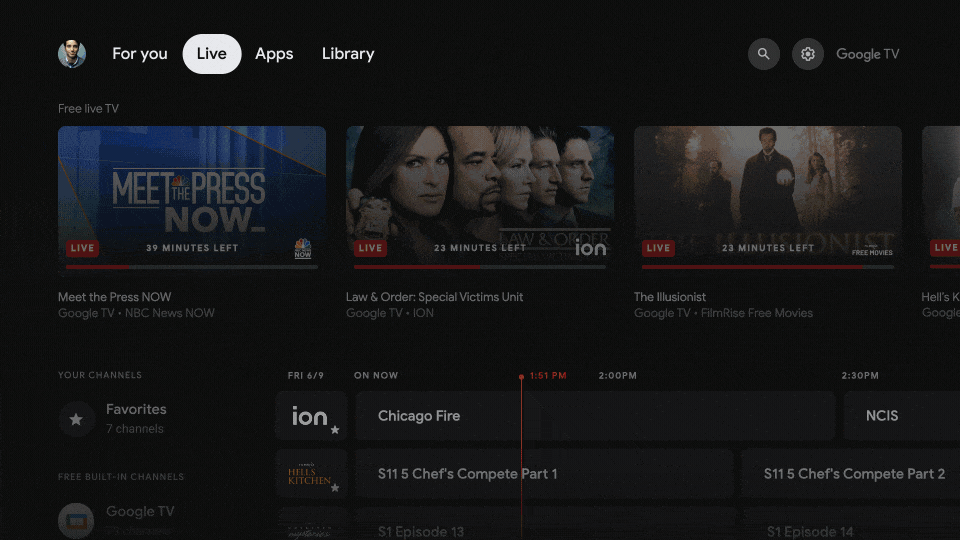 The Live tab TV guide brings all your channels together and organizes them by topic and genre.
Find what you're looking for with ease
The new TV guide brings all your new free TV channels together and organizes them for easier and faster browsing. Whether you're in the mood for true crime, classic TV reruns or your favorite cooking show, we've got you covered. Plus, you can save your "Favorites" to the top of your guide for quick and easy access next time.
And if you have a premium live TV subscription from YouTube TV or Sling TV, or access to over-the-air channels, you can use the Live tab to see those too. Now all your live channels can be found in one place.
The new live TV experience will be available over the next few weeks on all Google TV devices in the U.S., including Chromecast with Google TV and TVs with Google TV built-in from Sony, TCL, Hisense and Philips. We also plan to bring the new TV guide and free channels to eligible Android TV devices later this year.